You've found a post you'd like to reply to, great! Follow the steps below to make that reply shine.
No other replies
If there are no other replies to a post, you'll see two buttons very close together that will open the reply window for you. Both buttons in this scenario give you the same result so it doesn't matter which one you choose, you can click either of these buttons to open the reply window.

One or more replies
If there are one or more replies to a post and you want to reply to the original question, the easiest way to do this is to scroll to the bottom and click the blue "Reply" button.

Replying to another person's reply
If there is a reply within the thread that you'd specifically like to respond to, click on the reply button beside that post.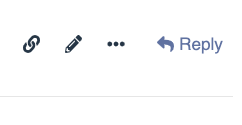 This will notify the author of the reply that you have responded to them so that they can respond back or like your response to them.
Making your reply shine
Now that the reply window is open, how do you make your reply shine?
A good reply, similar to a good Club post, includes context/detail/references to back up the point you are trying to make. Include as much detail as you can when replying. It's helpful for both you and the original poster to understand your point of view.
It's important to note that your reply cannot be empty. If you just want to reply with an emoji, why not consider linking the reply instead? :)