The Ministry of Testing profile is an excellent way for us Ministry of Testing to get know you and others in the Testing Community so we can:
Tailor events to your location and timezone
Learn more about how your involvement in the Testing community beyond Ministry of Testing
Let others get to know you when you contribute content with Ministry of Testing
If you have any concerns with how we use your data on the profile. Don't worry, it's all completely optional (apart from your name) and is used in a professional and safe way. If you want to know more, you can learn more about how we use your profile data here.
The Profile Page Explained
A completed profile page will look similar to the one captured below: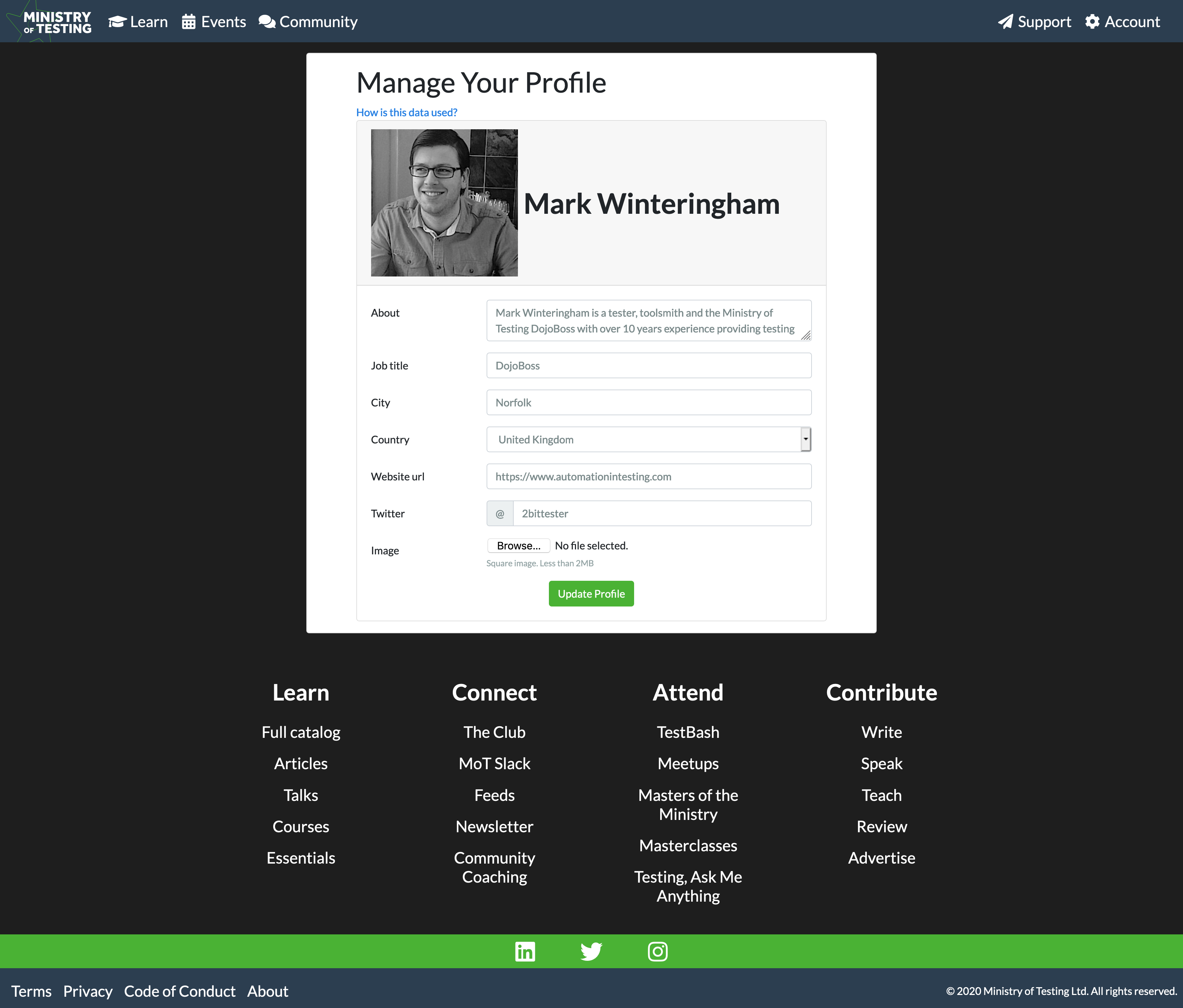 Let's take a little look at what you can share and some suggestions as to what to add:
Your profile image - A great way to put a face to a name. The profile accepts square images in png and jpg format and must be no bigger in filesize than 2mb.
About - This is where you can share everything about you that you would like others to know about you. You don't need to write an epic story, a few paragraphs about how you are, your experiences as a tester and some other fun details is enough to help people learn more about you.
Job Title - If you're someone who has contributed content with Ministry of Testing this is a great way to promote your work. For example if you've created a talk on Quality, sharing that your job title is a Quality coach will help shows that you know what you're talking about when it comes to Quality.
City, Country - This helps us at Ministry of Testing know where our members are and guides us in what are the best times and places to organise our events, so that all our events and content are easy to access.
Website URL, Twitter - Got a blog, like to chat on Twitter? Why not promote those by adding links to them on your profile. (Don't forget if you do have a blog you can always add it to our Feeds as well)
Help Us Improve
Are you happy with the profile page? Are there other things you would like to share with the Testing community? Do you have something to share with us about this feature?
We're always looking to improve our content and features and would love to hear from you. You can get in touch via the Gist or via email at dojo@ministryoftesting.com