Ministry of Testing offer a wide range of events that you can attend to help you learn more about Software testing and connect with others in the Testing community. Let's take a quick look at what event types we offer:
TestBashes - These our original Software testing conferences that we've ran all across the world. Our conferences consist of talks, experience reports, and social activities all to help the Testing community to get together, share ideas and have a great time. Our TestBashes our hosted both online and in-person to ensure TestBash is accessible to anyone, wherever they are. Online conferences are free to attend if you're Pro.
99 Minute workshops - We run weekly online hands on workshops for Pro members to attend to deep dive into new testing knowledge and skills. Our workshops offer up to 2 hours of lectures, demonstrations and activities for attendees to take part in that a run by experts from the Testing community. They are free to attend if you're Pro.
Training - We also host longer form training events that range from 1 day to 3 days in length. Much like the 99 minute workshops, our training events are run by the best and brightest in the industry for you to learn from. Training events are typically ticketed.
Webinars - Each month we run either a Masterclass or Ask Me Anything event that is free to attend for both Pro and Club members. These events are a great way to learn new ideas, concepts, skills and knowledge either by listening to expert talks for members of the Testing community. Or by asking them the questions you want to hear them answer. If you miss one, you can always watch the webinar back via the Masterclass series or the AMA series on the Dojo.
Finding an event
To help you search for and register upcoming events there are few features to take advantage of on the events page:
Sidepanel menu
Quick filters
Events list
Each of which you see highlighted in the screenshot below: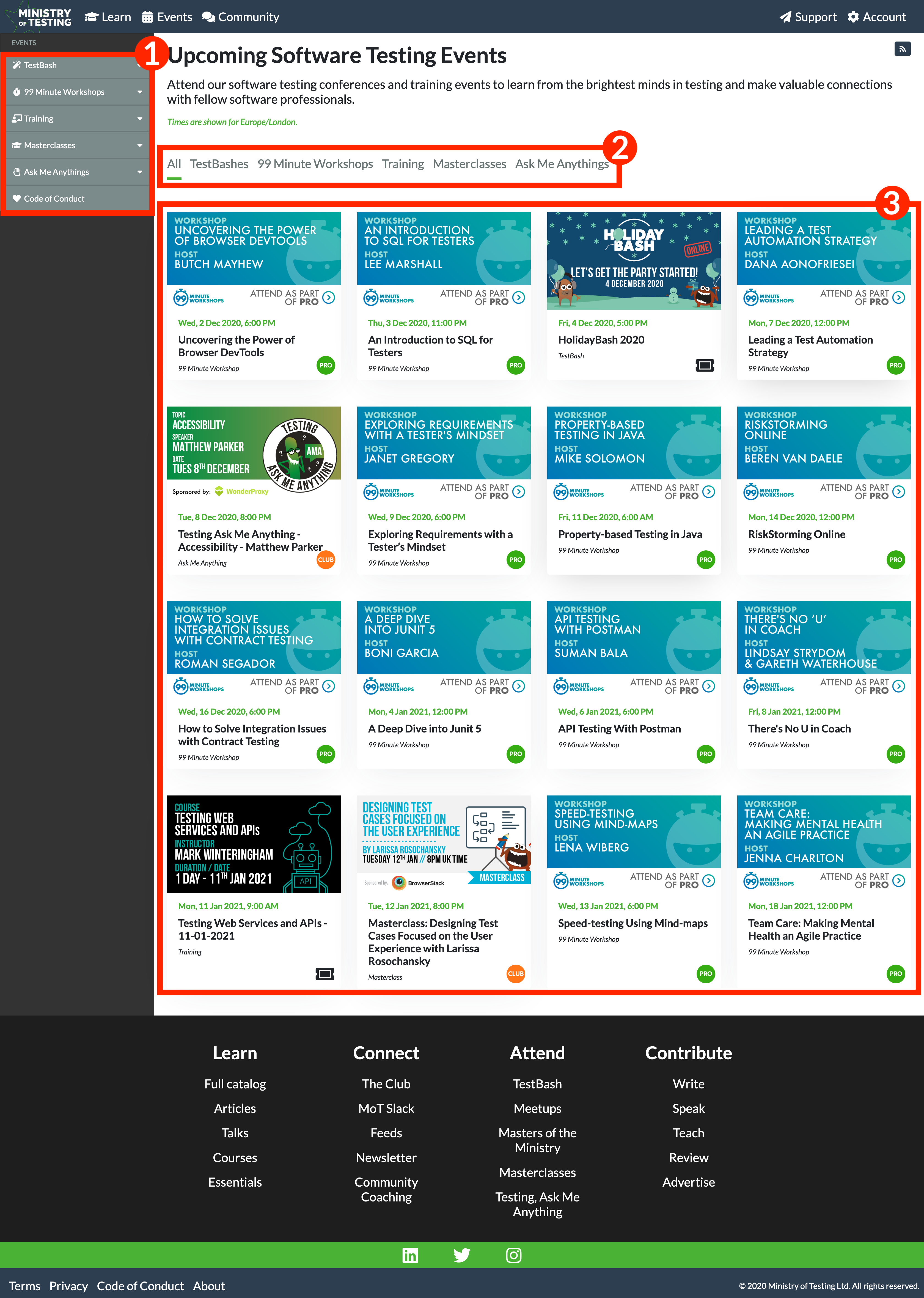 Sidepanel menu
The sidepanel offers quick links to not only select an event type you are looking for, but also additional information on each of event types. For example, if you want to learn more TestBash, clicking on the TestBash menu item will show you links to what a TestBash is and how you can speak at one.
Quick filters
With so many events to share, it can be tricky finding the event you want. So the quick filters tab allows you to set which specific event type you want to see in the events list. For example, if you wanted to know what training is upcoming, you can select the 'Training' tab to only training events.
Events list
All our available events are shown here with a brief summary of what they are, when they will be run and whether it's a Pro, ticketed or Club event. You can click on any of these events to learn more about what will be happening during the event and sign up for them.
Help Us Improve
Is there an event you want to attend that is there? Are the features missing in Events that you would like added? Do you have something to share with us about this feature?
We're always looking to improve our content and features and would love to hear from you. You can get in touch via the Gist or via email at dojo@ministryoftesting.com