Finding content on the Dojo
Finding content on the Dojo

By Mark Winteringham
updated 12 months ago
The Ministry of Testing Dojo is the home of all our learning material that are guided by our five learning principles. Here you can find all sorts of material to help you learn more about Software Testing such as:
Courses - Collections of structured, activity driven lessons that provide an engaging environment for you to learn new skills, knowledge and abilities in Software testing. You can learn more about taking a course here.
Talks - All our talks from every TestBash have been recorded and added to our catalog for you to view and learn from.
Articles - We also feature regular articles written by members of the Testing community that share ideas, experiences and thoughts across a wide range of topics in Software testing.
Webinars - All our Masterclasses and Ask Me Anything webinars that we host on a montly basis have been recorded and stored on the Catalog as well for you to review.
Podcasts - We also host regular podcasts such as the Ministry of Testing podcast and Tester's Island Discs which offer an opportunity to not just learn about testing but about the people in the Testing community.
Other resources - We're always experimenting with mediums and ideas and the results of those can be found in the other resources. Such as comics, one off podcasts, talks from meetups and useful resources for you.

All this content is accessible to Pro members with limited access for Club members.
Finding your way around the Catalog
We have over a 1000 talks, courses, articles and podcasts for you to view which is an overwhelming amount of content to go through. Fortunately, there a few different ways in which you discover content in the Dojo:
Search
Topics
Latest Content
Content types
These sections are all highlighted in the screenshot below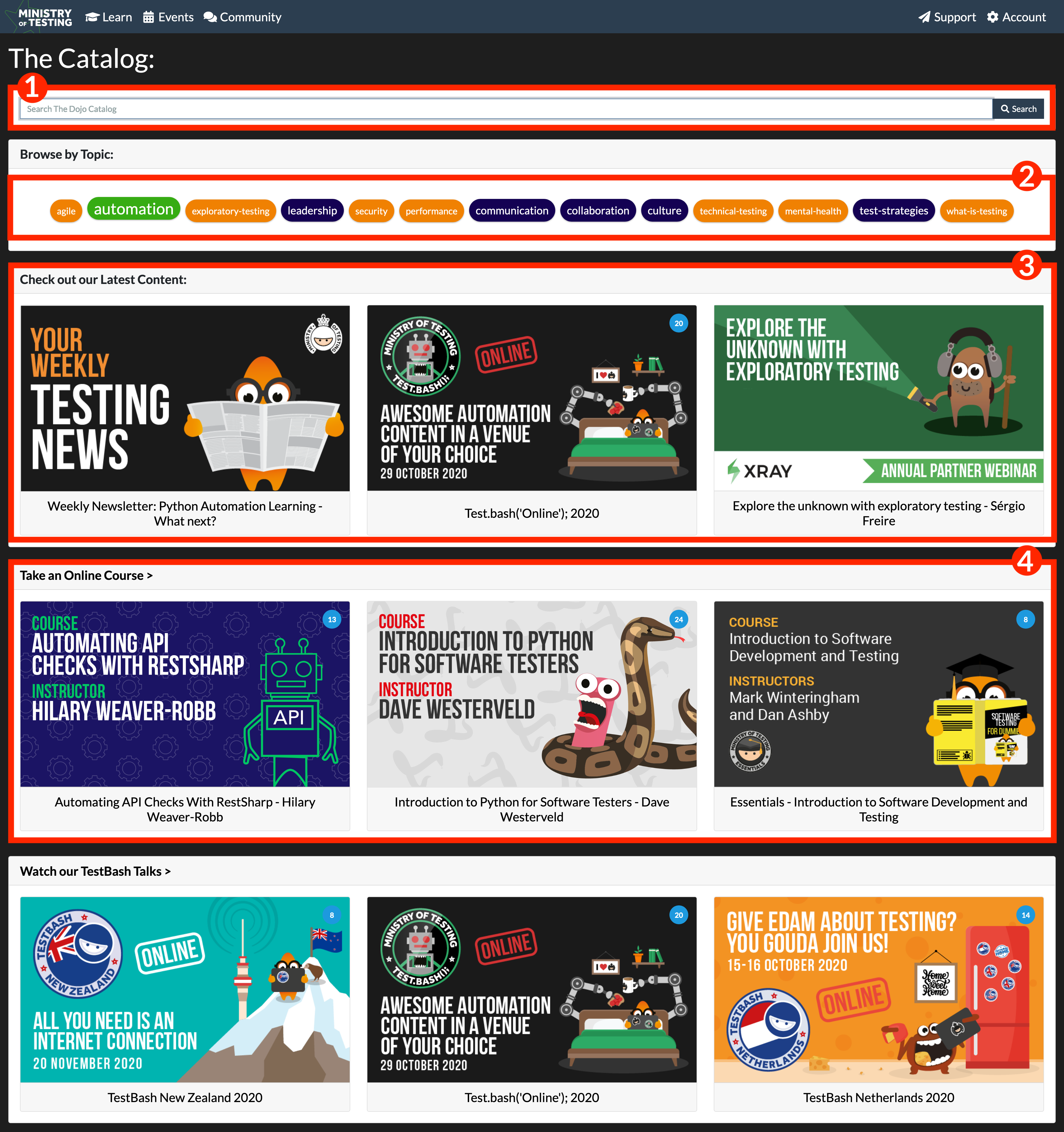 Search
To can find the content you need you can use our search feature with a mix of keywords and filters. To start a search all you need to do is enter a keyword and hit search. You can learn more about search here.
Topics
All our content is tagged with related topics to help you find content via a topic you're interested in. Each of the keywords in 'Browse by topic' are clickable and will take you to a dedicated page that shows content that has been tagged with the topic you have chosen. Our topic pages also include a quick intro as well to help you get started with new topics.
Latest Content
If you're looking for newest content we've published you can access our top three newest items from this panel
Content Types
Similarly to the newest content panel, you can also see the top three newest items grouped by content types in their own panels. Such as Course, Talks, Articles, etc. If you want to find out more content in that Content type, simply click on the panels title. For example, clicking 'Take an Online course >' will send you to a page with all our courses.
Help Us Improve
Is there a talk, course or other item that you would like to see in the Dojo? Would you like other ways to navigate the Dojo catalog? Do you have something to share with us about this feature?
We're always looking to improve our content and features and would love to hear from you. You can get in touch via the Gist or via email at dojo@ministryoftesting.com
Did this answer your question?