Welcome to the Ministry of Testing site, a place that is dedicated to co-creating smarter testers. We're excited to have you here and look forward to seeing you in the Testing community. To help you get started, this guide shares some of the ways we help support the Testing community and how you can navigate our site to discover more about them.
What does Ministry of Testing offer?
Our work is split into three areas that are:
Learn - Where individuals can learn more about software testing through engaging material contributed by others in the industry

Events - Where individuals can join together, share ideas and learn from one another and make new connections with others in the community

Community - Where individuals can connect with the testing community beyond our events to learn and share
Navigating the Ministry of Testing site
Most of the pages are divided into three columns, with the middle column being the main content of the page.
1. Global nav options
The global nav allows you to access the main areas of Ministry of Testing: Learn, Events, Discussions, and Contribute. Clicking on these items will take you to a timeline view that displays content relevant to that area (except for Discussions, which is a link to The Club). You can also return to the homepage at any time using the Ministry of Testing link.

2. Support and Profile
Your profile picture and name can be clicked to take you to My MoT. Here, your account details, profile, billing and learning history can all be found. Use the links here to update details or see how you're progressing in your learning.
You can also always access these guides from the Help link.
There is also a link to where you can find any content that you have bookmarked. Content can be bookmarked by clicking the bookmark icon on timeline cards, or content pages.

3. Timeline
With so much going on in Ministry of Testing and the wider Testing community, we've made it easier to see all that has been happening by showing the content in a timeline. You can click a timeline item to view the content, or you can bookmark the content for later.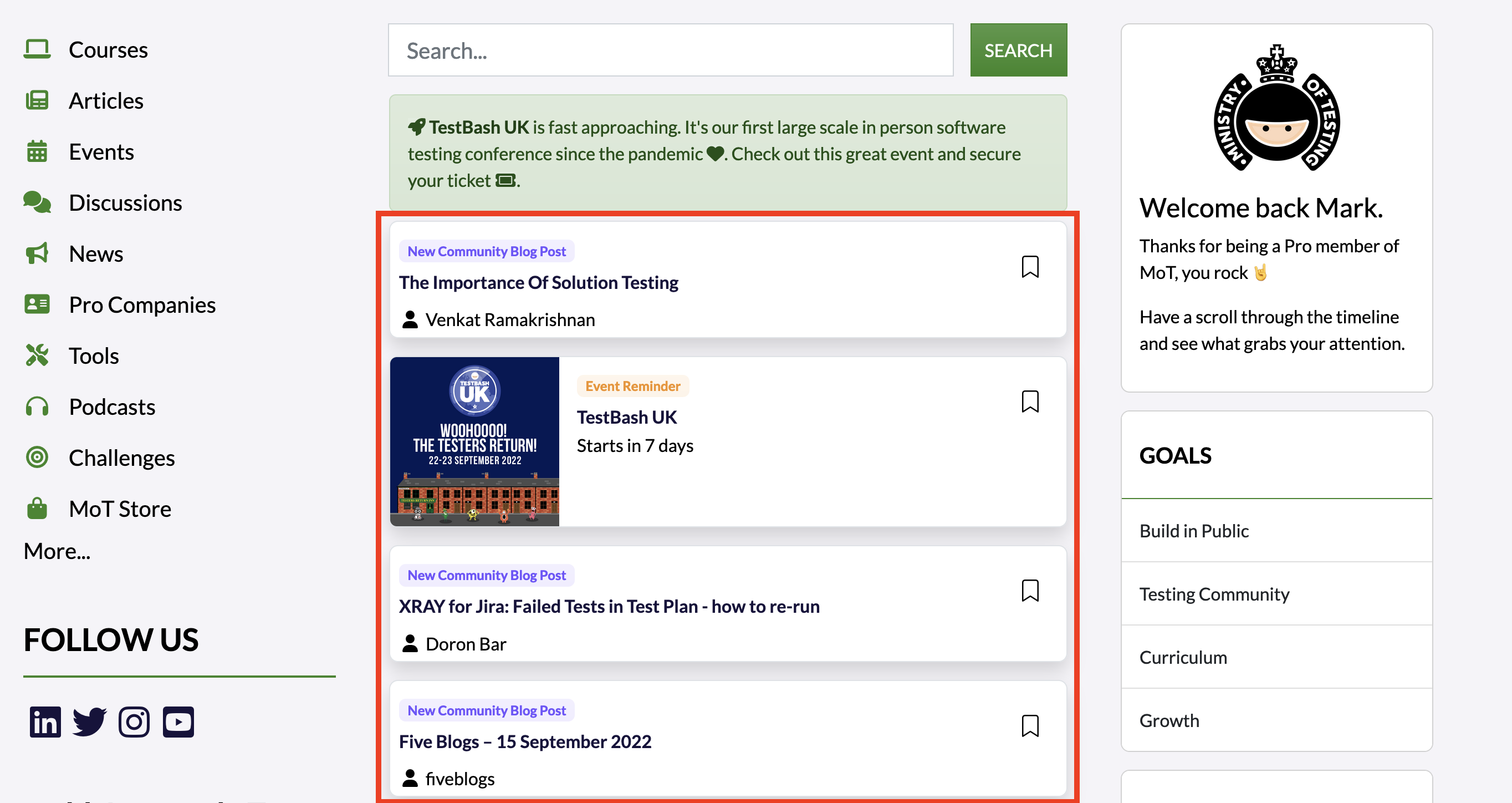 4. Footer
Finally, our footer contains lots of helpful links about some of the other areas of our site.
We hope that this quick introduction gives you an idea of the many things going on at Ministry of Testing and the wider Testing community that you can take advantage of. If you want more support about specific areas of the site, you can search our knowledge base. Or get in touch with us via email at hello@ministryoftesting.com or the Gist bot in the bottom right-hand corner.

Help Us Improve
Is our latest page helpful or is it missing something? Are there links or navigation features you want to see added? Do you have something to share with us about this feature?
We're always looking to improve our content and features and would love to hear from you. You can get in touch via the Gist bot or email at hello@ministryoftesting.com