With your workshop now submitted, published live and scheduled. As participants sign up, you'll probably need to start planning out your workshop. In this guide, we'll offer a few templates and references to help you effectively plan your workshop.
Delivering a 99 Minute workshop
Delivering a 99-minute workshop online has some challenges that need to be considered. Such as:
The maximum attendee limit for a workshop is 100 participants
You're remote from the other attendees so can't assess and facilitate
The workshop is hosted on Crowdcast a tool that only supports a maximum of four on screen (You will be able to hear from people via the chat)
Crowdcast doesn't support breakout rooms
This means that traditional approaches such as small group activities and group discussions can't be relied upon in this format. So we have to consider other approaches.
One model that we have found that works is to break your workshop into a series of feedback loops that follow this pattern: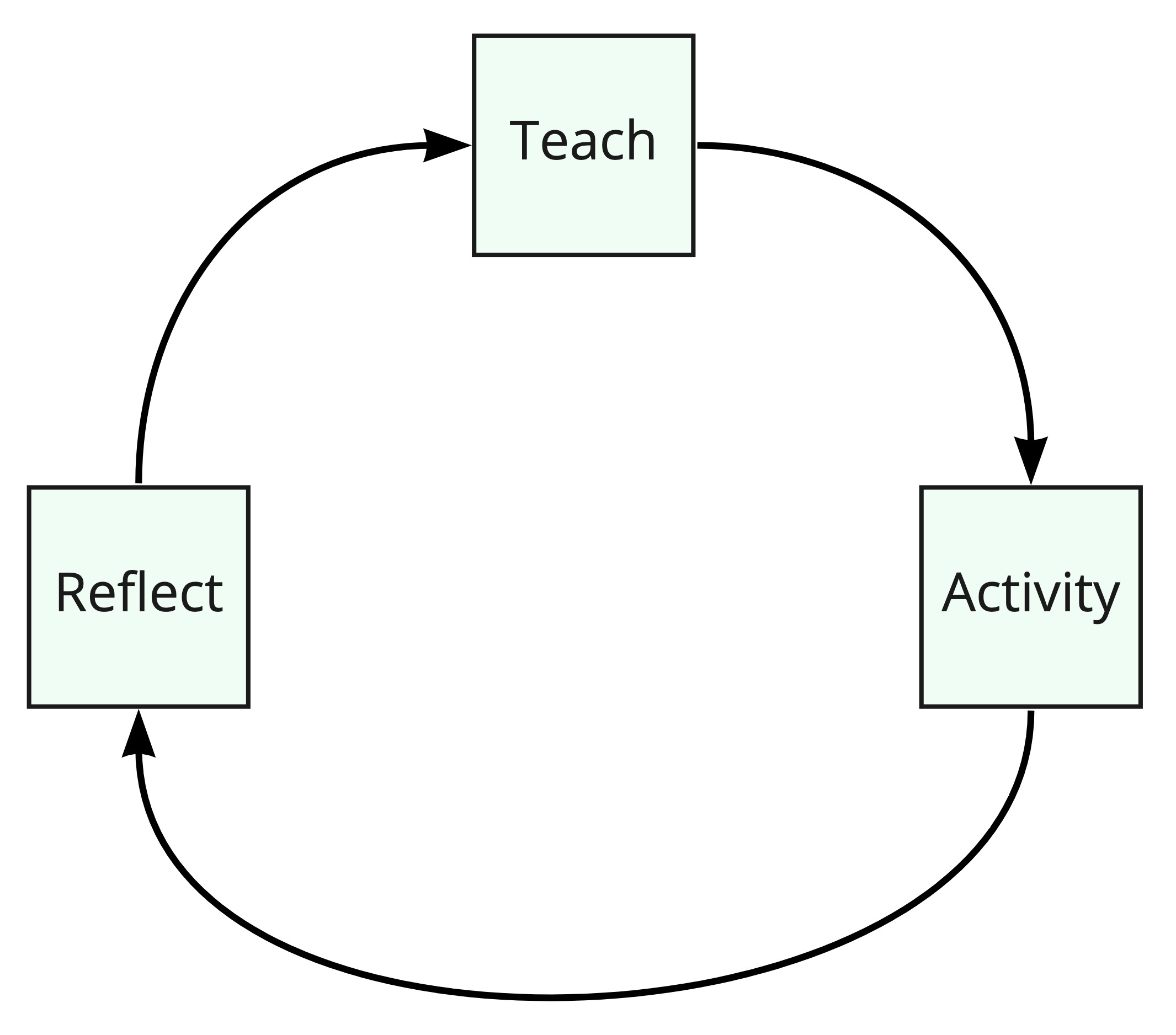 To break this down with an example, say you had a learning outcome such as: 'List different testing tools'. You feedback loop would consist of:
Teach - You start the loop by sharing knowledge and skills through options such lecturing with slides, telling stories or demonstrating. In this phase the attendees are listening to you.
Activity - The attendees are then set an activity where they add different testing tools to a central location (For example a Google document or Miro board). This helps the attendees see the work being done by others, and helps you see how the activity is progressing. You might even highlight items as they're added.
Reflect - You then review the submissions, commenting on them and offering to answer any questions before concluding the section and moving back to Teach for the next learning outcome.
What this loop enables you to do is to actively engage with the work the attendees are doing and an answer questions rapidly. It also fosters a feeling of collaboration by enabling the attendees to see others working on content as well.
Running small groups
Whilst not recommended you are of course free to set up the ability for attendees to get into small groups and work together. However, you must consider:
Tooling - What tool are you going to use? Is it easy to access and get setup with? Are there any risks involved in your tool choice that could affect the learning experience
Facilitation - Are you going to be monitoring the groups and facilitating? If so, how?
Platform switching - How are you going to ensure that attendees can easily access their group? How are you going to ensure they come back to the main room in a timely fashion?
Lesson planning templates
To help you in your planning process we've created a simple planning template based off of our experiences of planning and delivering training for you to use. To get started all you need to do is open the lesson planning template, make a copy (or download) and then begin to fill in each section. Here's a brief description of each section of the plan:
Workshop title: You will likely already know this but it's helpful to add it in as a reference in case others have to review your lesson plan or if you have multiple plans to write out.

Prerequisite knowledge/skills: Not all teaching starts at the bottom and you may need your learners to already have some knowledge or skills in place to take your workshop. You may also need them to install and setup specific items. If you do, we need to know ASAP what they are so we can communicate them to your participants as early as possible. By dropping them in here and sharing your lesson plan with us, we can get those prerequisites out for you.

Learning outcomes: These have been covered in the workshop submission guide, but to summarise these are brief, specific and measurable statements that you want the learner to be able to achieve. These are the goals of your workshop and what you need to plan out. To make this planning as easy as possible, drop each learning outcome into a row of its own. Starting with your first outcome of the workshop at the top. Then fill in the remaining columns for each outcome.

What I will teach: This is where you can outline all of the things you want to cover. What you want to share, talk about, demonstrate, etc. This space allows you to break down all the information you feel the learner needs to know in order to achieve the learning outcome.

What learners will do (activity): We need to measure if the learner has achieved each learning outcome and we do that by setting out an activity that allows the learner to demonstrate they've achieved the learning outcome. So in this section, you'll outline what the activity is you want the learner to do. This could be coding alongside you as you show them a new library, having them do some testing of a product, or sharing something on The Club forum around an idea.
Teaching materials and learner resources: Finally any resources that you require or need to build can be stored here. You might also have additional material you want to share with learners. All of that is stored here.

If you need more details on how to fill in this lesson plan, you can review this example lesson plan we created, or as always you can watch our webinar How to Plan a Workshop?
Once you have planned out your workshop, you can then begin to pull together materials you require such as slides, activities, code snippets, etc. All to prepare you for the delivery of your workshop.
Tips and tricks
Here are a few neat things you can do to help your workshop go smoothly:
Create a landing page for your workshop - Some of our instructors have found it incredibly useful to have a page that they share with attendees that lists the agenda of the workshop, links to tools and details on activities that they carry out. This helps manage attendees expectations, gives them a place to go if they lose links or lose track of whats going on and reduces overhead for you.
Allow time for tech issues or tool switching - If you're attendees are asked to use other tools in your workshop other than Crowdcast (for example Miro, Hangouts, IntelliJ, etc.) allow time for them to get set up with the tooling. Additionally, if you allow a little time for attendees to come back from activities and ask them to say hello in the chat when they come back, you can avoid attendees missing content.
Need help in planning your workshop?
It's important to us that you get the opportunity to deliver the best workshop you can deliver. To help you with this we're happy to support you in any way we can in planning your workshop. If you need a more detailed explanation on planning, some help with activity ideas or a second opinion on your plan as a whole. You can either email mark@ministryoftesting.com and sarah@ministryoftesting.com with your lesson plan and ask for feedback, or you can book in a short call with Mark and Sarah via Calendly. Mark and Sarah will be more than happy to help you!